East Kent Girl Guides Association Clubhouse in Mystole (Canterbury), Kent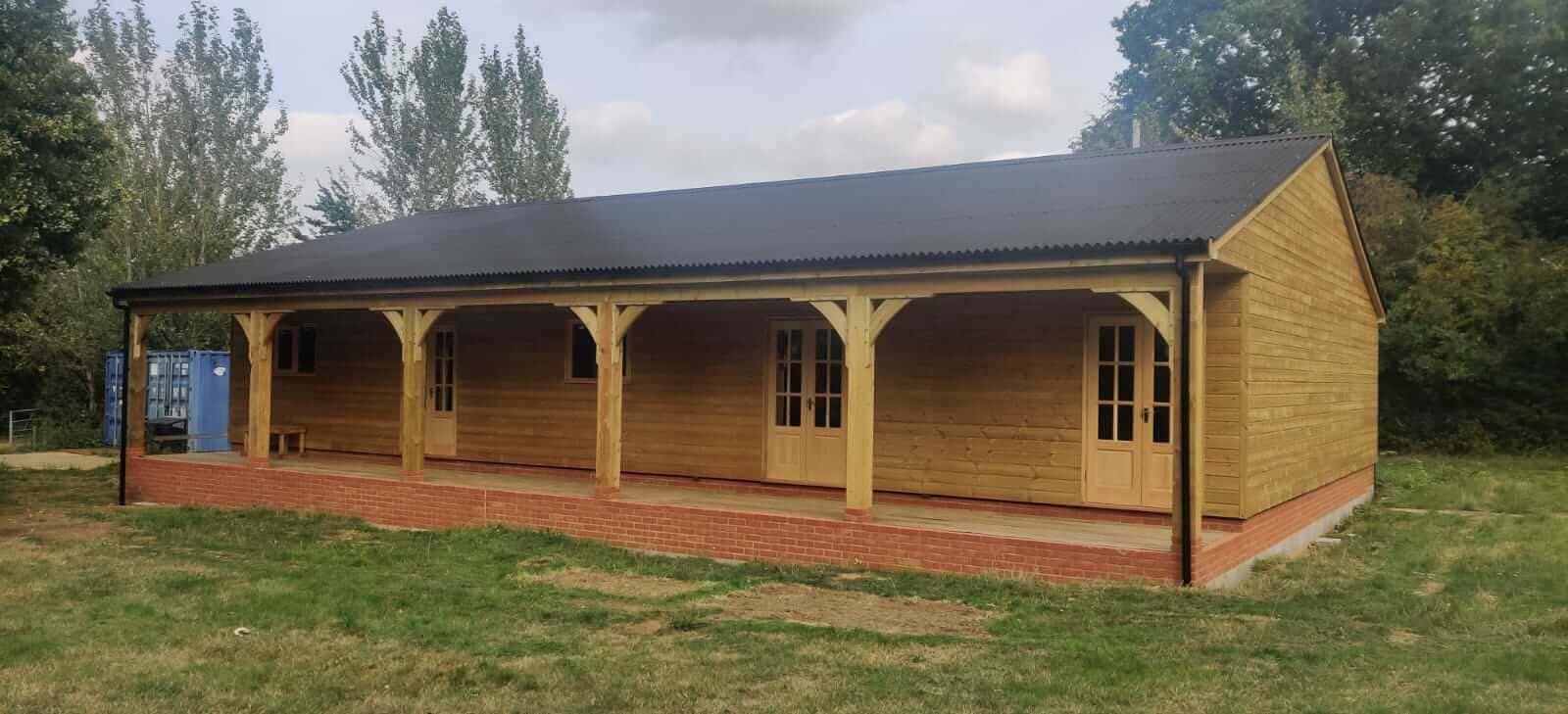 Location: Mystole, Kent CT4.
Project: Large clubhouse complete with shiplap canopy to house a shower, toilet, kitchen, utility, and storage areas as well as a central function room.
Specifications: 13m x 1.8m and with tanalised treated Shiplap canopy, supported by 200mm x 200mm tanalised treated posts.
The story:
We find all the projects we work on incredibly rewarding, but this clubhouse project for the East Kent Girl Guiders was particularly gratifying.  The East Kent Girl Guides Association first approached us back in 2017 with their vision to create a large, fresh, new clubhouse for their beautiful campsite in Mystole (just outside Canterbury), Kent.
Prior to the clubhouse build, the 24-acre campsite already housed three large camping areas, a centenary walkway amongst a large wooded area with footpaths, three glades and two campfire circles.  There is also an enormous activity field with climbing frames and areas for games and grass sledding.  While the scale of the site was impressive and already contained a few on-site shelters that housed some tables, chairs, blackboards etc, it lacked a sizeable central building for campers to gather, cook and store equipment that would also house some extra toilet and washing facilities.   The campsite is used primarily for overnight camps, daytime and evening events, group meetings, campfires, BBQ's, and activity weekends so, the clubhouse was a much needed, and long-awaited for, requirement.
It took three years to get the project off the ground following a long period of fundraising by the association to raise money and a wait for their request for funding to clear.  Plus, working with large corporations such as this one, naturally takes a little longer for the internal approval processes to be completed due to the sheer number of internal people collaborating on the project within the association.
Once the go ahead was given to us, a design was agreed, and plans were drawn up.  We provided drawings for the association to submit to Canterbury Council for approval, which took a little time to process, but was eventually granted.
The clubhouse measures an impressive 13m x 1.8m and boasts a tanalised treated shiplap canopy supported by 200mm x 200mm tanalised treated posts.  It houses a shower, toilet, kitchen, utility area as well as a space for guiders to eat, socialise together and store equipment.  The building is a great, central addition to the land that already houses several outbuildings for its campers.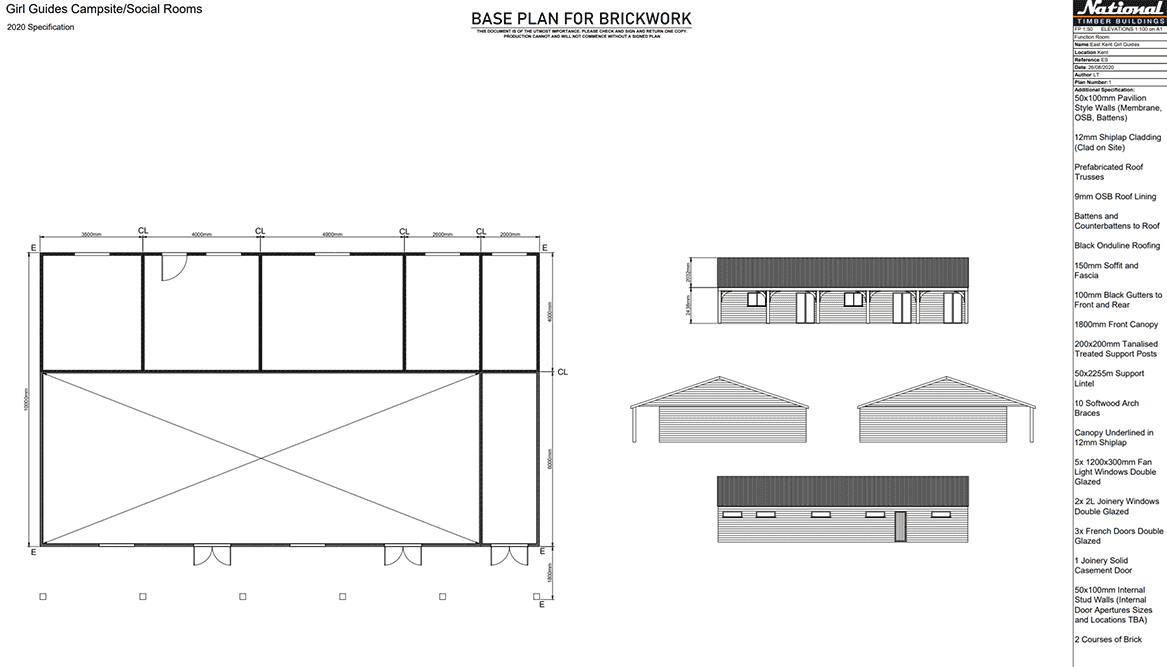 Upon approval of the plans, we set to work organising all the groundworks which were quite in-depth considering the amount of drainage needed etc. Following that, we finally erected the building on top:
Exterior walls were put place and the exterior Shiplap cladding was put up.
Lifted the TR26 dry-graded roof trusses into place.
Completed the gable and cladding and fitted the canopy linings.
The roofing went on and the felt and battening was completed.
All glass was fitted.
Final adjustments and checks on our part were made before the internal fit out team arrived on site.
Material list included:
Specialist joinery doors and windows.
TR26 dry graded roof trusses.
Double-glazed windows
Walls constructed using our own (pavilion) style.
This was a great project to be involved in and went very smoothly.  Being so local to us, the majority of the work was carried out on site rather than at our Faversham workshop.  Working with the Girl Guides Association is a first for us and was a pleasure to be a part of.