Cheap mobile field shelters are the low-cost option for stabling horses. Cheaper than building a stable, these standalone structures are perfect for offering horses shelter when out in the paddock. Thanks to their design, they are easy to transport and can serve as an integral part of your horse care – without costing too much money.
Cheap mobile field shelters for horses – how much should you expect to pay?
Our mobile field shelters are some of the highest quality you'll find, and they are still significantly cheaper than permanent stables. If you want the lowest prices possible, choose a self-assembly mobile field shelter. You can benefit from significant savings by completing the installation yourself. What's more, we will be happy to deliver your mobile field shelter to you for free if you are based in the Home Counties.
These are the starter prices for mobile field shelters:
10-foot range
10ft x 12ft: £1,700+VAT
10ft x 18ft: £2,170+VAT
10ft x 22ft: £2,610+VAT
10ft x 24ft: £2,750+VAT
10ft x 36ft: £3,970+VAT
12-foot range 
12ft x 12 ft: £1,830+VAT
12ft x 18ft: £2,350+VAT
12ft x 22ft: £2,670+VAT
12ft x 24ft: £3,170+VAT
12ft x 36ft: £4,370+VAT
Why choose mobile field shelters?
These are some of the reasons why you might select a mobile field shelter:
A life expectancy of up to 35 years. Our mobile field shelters are designed to last.
You often don't need planning permission. As long as field shelters are a temporary type of shelter and they are moved regularly, they don't require the planning permission needed for a permanent stable. There are some specific situations when you might need planning permission:

Your land sits within a designated National Park
The land where you want to position your shelter is close to a listed building
You have already built large-scale structures on your land and it is considered to be overdeveloped.
Learn more about mobile field shelters and planning permission from the experts at National Stables.
You don't own the paddocks where you keep your horses. A mobile field shelter can be a good option for keeping your horses warm and dry without having to make permanent modifications to the land – which isn't an option if it belongs to somebody else.
You want a temporary stabling option. Some people choose to have mobile field shelters before investing in permanent stables, or you might need a smaller, quicker option than a full stable block.
Your horses need some shelter during the day. Field shelters are the perfect option for stabling your horses whilst out in the paddock, offering them some shelter from bad weather without having to lead them back to a stable.
You move your horses on a regular basis. Mobile field shelters can be transported easily thanks to their skids – ours are made from fully galvanised steel, which sets us apart from many other field shelter manufacturers. These skids can easily last up to 40 years.
You want a lower-cost option. A field shelter will be significantly cheaper than a stable, even if you buy one that is top quality. Our self-assembly mobile field shelters offer you higher quality for lower prices, delivering real value.
See all our prices – find stables that offer true value for money.
Send my free stable brochure.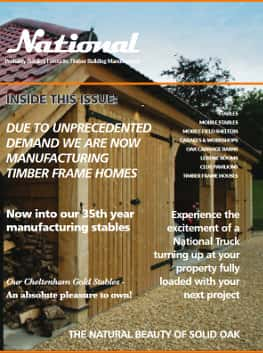 High-quality features – mobile field shelters your horses will love
Our mobile field shelters are loved by horses and owners alike, with a range of top-quality features that will ensure comfort and make your shelter strong and durable. These are some of the features you can expect as standard from our mobile field shelters: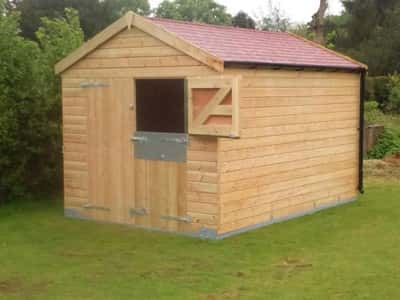 Adjustable stable door hinges – allows doors to be adjusted as a simple DIY task in future, making your shelter low maintenance.
4×2" roof purlins in prefabricated steel joist hangers – additional roof strength, plus increased wind and snow loading.
Galvanised, barred stable windows with a sliding Perspex cover – this will regulate ventilation and is very low maintenance.
Roof lining (can be added for an extra cost) – warmer in winter and cooler in summer, a roof lining offers a more comfortable environment for your horses. It also offers an increased Onduline roofing life expectancy and prevents sagging.
Heavy-duty, galvanised steel skis – these keep the building above ground level, and have 6mm fully welded restraint cleats for a secure attachment to the ski. Our skis allow the shelter to be towed from either end.
Tanalised timber – the tanalising process protects your shelter against insect attacks and fungal decay. Minimum grade C16 timber is used for framing and rafters.
Stable ventilation – a louvre stable vent is positioned underneath the canopy at height, which protects against wind-driven rain whilst allowing for better airflow.
Professional mobile field shelter designs – low-cost horse care
If you want a mobile field shelter that is designed to meet your specific needs, we can help. We have an expert team of stable designers within our team who can draw up your field shelter layout and make sure it includes all the features you need. Please just talk to us and we will be happy to discuss your options in full – you are very welcome to come in and see us in person during the design process if this will be useful to you.
If you have any questions about our self-assembly mobile field shelter options, we are more than happy to talk to you about these as well. Please call 01233 884502, email [email protected] or send us a message and we will respond ASAP.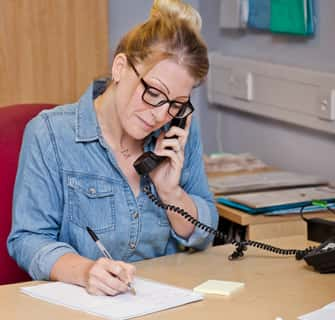 Get in touch
Want to know more about choosing low-cost, high-quality stables? We're happy to answer all your questions. Call 01233 884502, email [email protected] or send us a message and we will respond ASAP.