A mobile field shelter is the perfect option for horse owners wanting a temporary, field-based solution for housing their animals. Perhaps you are currently waiting to have a new stable block completed or you want to give your horses more shelter during the day if they spend lots of time out of doors. Whatever your needs might be, there is a lot of potential in a mobile field shelter and we sell many of these structures to help improve horse owners' daily routines.
The issue of planning permission is often one that our customers ask us about, as it can be a concern when you are having any kind of building work carried out on your property. If this is the case and you are currently wondering what permission you will need, then you can rest assured that 99% of the time you will not need planning permission for a mobile field shelter. However, there are some provisos, and for the 1% of cases that do need planning permission, strict regulations will need to be met.
What are mobile field shelters?
Mobile field shelters are quick, simple, sturdy, and versatile sheltering solutions for horses, goats, sheep, pigs, or llamas.  We've also seen many customers erect mobile field shelters for alternative uses too, such as to store hay, farm machinery and general storage.
In many ways, mobile filed shelters are similar to our National range stables, but the main difference is that the structures are sited on skids, making them easy to move around your fields or paddock. They are ideal for providing shelter from both cold and heat extremities, as well s restricting grazing when needed or providing confinement following illness or injury.  Many people choose them specifically because they won't need planning permission, or they might want some temporary shelter for a horse, ahead of a permanent stable being built.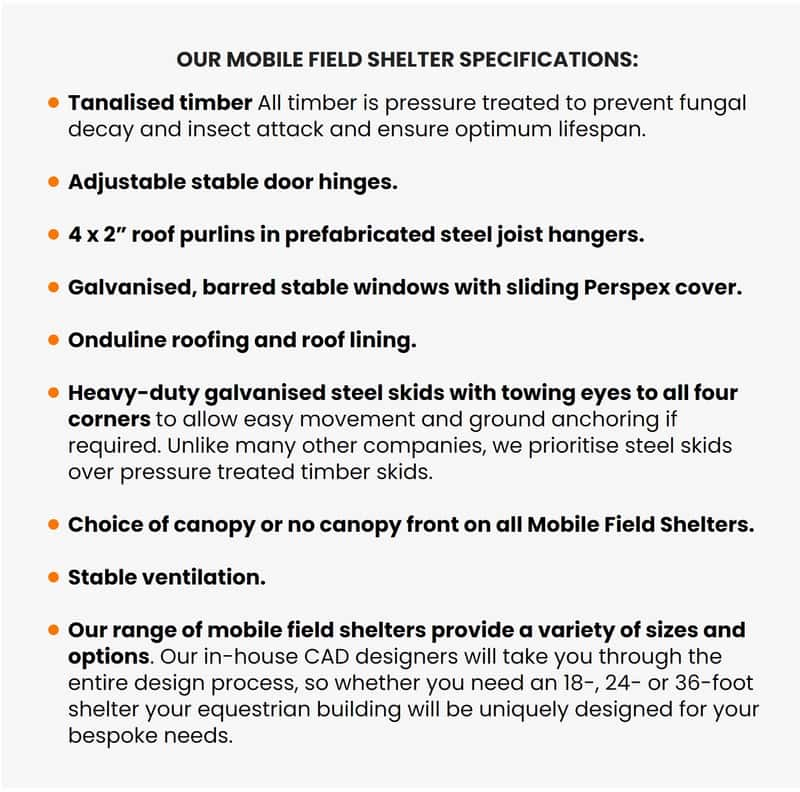 To find out more, see our mobile field shelter page.
When might you need planning permission?
 The times when you need planning permission for a mobile field shelter are usually to do with some very specialist circumstances. Here are some of the reasons why you might need planning permission:
Your land is within a designated National Park. If you are based within the area of a National Park or an Area of Outstanding Natural Beauty, then you will usually not be able to build any kind of field shelter, mobile or not. You can apply to your local council for planning consent, but it will often not be granted.
You want to build your field shelter on land near a listed building. It is often very tricky to develop land around a listed building, even with temporary structures. If you have a listed building, we will be happy to advise further based on your individual circumstances.
Your land has been overdeveloped. If you have already built other structures, such as stables or garages, or extended your existing property it is possible that your land may be considered to be overdeveloped already. You may need to apply for planning permission, and it may not be granted.
Councils are becoming stricter regarding planning permission
 Do be aware that councils throughout the UK are becoming stricter with regard to planning permission. Whilst in most cases a mobile field shelter will be absolutely fine without planning permission, due to its very nature as a mobile structure, we do advise caution. Some people deliberately flout the rules, installing mobile buildings that they have no intention of moving, simply to get around planning rules. If a local authority suspects you are doing this, they could order you to take the building down.
In order for a council to regard a field shelter as being a mobile building through and through, they will usually expect the following:
That the shelter is moved regularly.
That it must have the appropriate means of moving it.
That if a base is put down, you will seek advice on the need for planning permission.
Whilst rare, do be aware that some mobile field shelter owners have had to go to court after their local councils have accused them of needing planning permission for their structures. In one case, covered by Horse & Hound magazine, the land owner's field shelter was deemed by a planning inspector to be a new building as opposed to a temporary use of land. This was largely because the owner had put down a base, which he believed to be fine as it was washed river stone, not concrete. Despite having skids on the shelter, the case was still taken to court and cost the landowner a great deal of money.
It's very important that you are careful about how you manage your field shelter to ensure it meets the rules for a mobile structure. If you have any doubts in your mind at all, then it is best to take your enquiries further and make sure you are doing the right thing.
So, will I need planning permission for my mobile field shelter?
Even after reading this blog you might well have some questions regarding mobile field shelters and planning permission. Many of the points are so nuanced it can be difficult to know whether they will apply to you unless you are something of an expert on the subject matter. Luckily for you, we do just happen to be experts and we are more than happy to lend our expertise if you need it. We can advise on whether you are likely to need to submit a planning application for your mobile field shelter. and if you do need to go through the process we can provide you with some very useful support and advice.
Please get in touch if there is anything you would like to know about mobile field shelters – whether it is to do with planning permission or not. We have an expert team on hand who will be happy to answer all your questions and ensure you are completely happy and comfortable with the process.
Telephone: 01233 740 944
Email: [email protected]