Homemade horse treats

There's nothing better than a handmade gift to let the receiver know how much they are loved. Horses are no different. They will appreciate your effort and will feel nothing but good vibes from, and for you. Plus, nothing spells love better than T-I-M-E. We have had a good search around for some great homemade horse treat ideas and we've collated our favourite ones for you in this blog to help inspire you.
As Christmas is just around the corner, lets start with some festive horse treat ideas. One of the great things about making treats yourself is that you know exactly what they consist of and can ensure your horse's dietary requirements are taken into account.
For most of us here at National Timber Buildings, leftovers are not something we are familiar with in our households! However, if you usually have plenty of vegetables leftover from your Christmas dinner, your horse will love them as an extra special treat. Carrots, parsnips, swede are all great to add to their feed or to hang up in their stable for them to enjoy munching on. Fruit such as apples and pears always go down a treat too.
For those of you that love baking at Christmas time, why not try adding a few festive flavours to your horses-soaked feed – cinnamon would be a cracking choice. Horses love mints too. Not only are mints a tasty treat they are also beneficial in healing the digestive tract and lungs, and who wouldn't appreciate minty-fresh breath when tending to their equine pal?!  Plus, mints also contain astringents (compounds that heal skin), just try and opt for the sugar free kind and enjoy feeding them to your horse by hand for some super special bonding time – he'll lap up all the attention while enjoying his minty treat.
If you have some (preferably sugar-free) applesauce in your cupboard, why not add a little to your horse's meal for a tasty snack? The following Superfood Horse Treat is a good recipe for using up applesauce. Plus, it boasts minimum sugar, and it is super easy to make: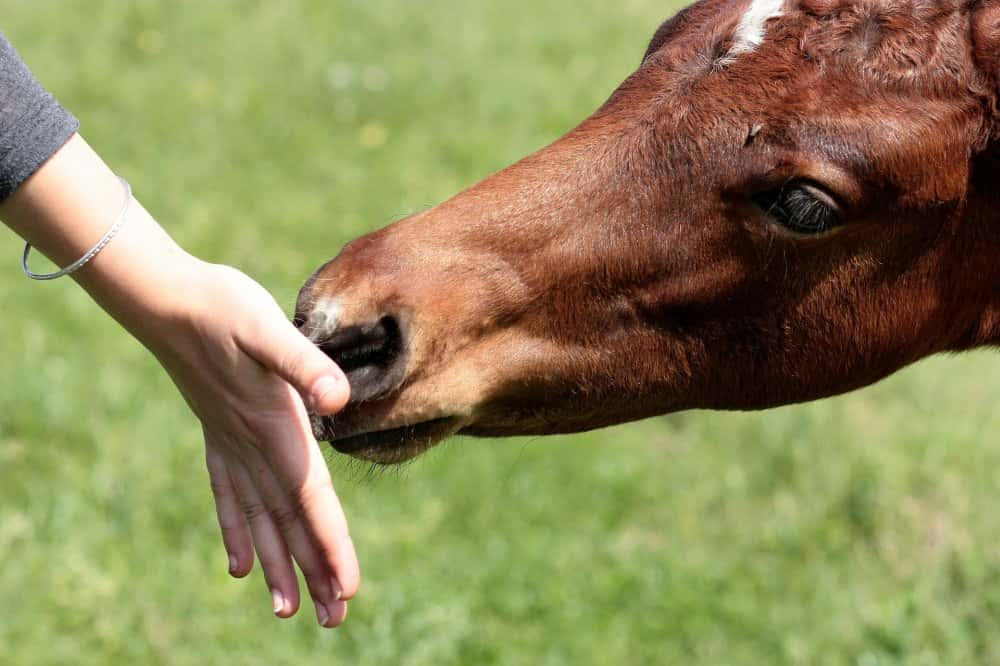 Superfood horse treats
Ingredients:
4 cups wholemeal flour
½ cup oatmeal
1 whole egg
¼ cup maple syrup*
1-1/4 cups applesauce
2 teaspoons pure vanilla extract
2 teaspoons baking powder (e.g. a certified organic, rice based, gluten and aluminium free product)
1 teaspoon Saigon cinnamon
1 teaspoon finely crushed dried mint leaves (if your horse likes the taste of mint)
Extra flour for rolling out dough
Dehydrated maple syrup and sundried, unsulfured cranberries for garnish
*For insulin resistant horses, use filtered water or brown rice syrup in place of maple syrup.
Method:
Preheat oven to 375°F (190°C). Cover a large cookie sheet with parchment paper for easy clean up.
Combine all ingredients in a large bowl. The dough will pull away from the sides of the bowl when it is ready to be kneaded and rolled out.
Sprinkle a cutting board or countertop with flour. Divide your cookie dough into four balls, knead each one well, then roll them out separately and cut into squares or other desired shapes. Place on cookie sheet and garnish with cranberries and/or a sprinkle of dehydrated maple syrup.
Bake for 40 minutes, or until the edges of the cookies are golden in colour. Cool cookies completely before storing in an open bowl. This recipe makes 45 large cookies.
Recipe courtesy of alternativeanimal.com.
The other idea that we are slightly jealous of, is to pour a little Guinness over your horses Christmas dinner as a super special indulgence! Apparently, they'll love it! We recommend tasting the Guinness yourself first (for quality testing purposes obviously)!
If cookies float your horse's boat, give Tanya Davenport's 'Ultimate Horse Cookie' recipe a whirl. It will not disappoint:
The Ultimate Horse Cookie Recipe
Ingredients:
1 carrot
1 apple
1/2 cup honey
2 cups oats
1/2-3/4 cup flour (or make oat flour by throwing some oats into a blender/food processor)
1 tablespoon of vegetable oil or coconut oil
1 tablespoon water (optional)
Method:
Preheat oven to 300-325 degrees.
Grate the carrot and finely chop the apple.
Mix together all of the ingredients. Please keep in mind that depending on variations such as the size/type of apple, what kind of oats you use (rolled or steel-cut oats don't absorb as much moisture as quickly as quick oats), whether you use honey or molasses, etc. you may need to tweak the amounts of the ingredients. You should be able to squeeze a ball of dough in your hand and it shouldn't fall apart).
Roll and press into balls with your hands and place them on a greased baking sheet. If the dough is too sticky add more flour and/or water.
Bake for about 28-32 minutes on the middle rack, checking on them often, until golden brown.
Cool and store in a sealed container and use within a week. They'll stay the freshest stored in the fridge
There are tons of easy secrets to a great recipe, but the most important one is to provide treats in moderation.  Just like us humans, too many new and sugary treats can cause havoc with colic, and a poorly horse (and a hefty vet bill) is not the aim here. As ever, the best gift of course, is to spend as much time cuddling, grooming and caring for your horse as possible, but if you want to spoil them with a new horsey toy or tasty treat, they will be sure to love you just that little bit more.