A guide to placing a bet on
Grand National
Having a flutter on the horses can be a great way to spend an afternoon with friends or family.  The annual Grand National race meet held at Aintree Racecourse in Liverpool is a particular favourite for those Brits among us that do not normally watch or bet on horse racing at other times of the year.
Every April, 40 horses and their jockey's line-up in what is the ultimate test (of both horse and rider) in British horseracing – 30 fences to jump, over a 4 mile and 2½ furlong (4 miles 514 yards/6.907km) course, is no mean feat and its certain unpredictability is what makes it the most exciting event in the horse racing calendar.

If you are planning on placing a bet on the Grand National this year for the first time, or maybe this will be your first time placing a bet online rather than in person, we have put together some helpful advice and guidance on what you need to consider, as well as a step by step guide to placing an online bet.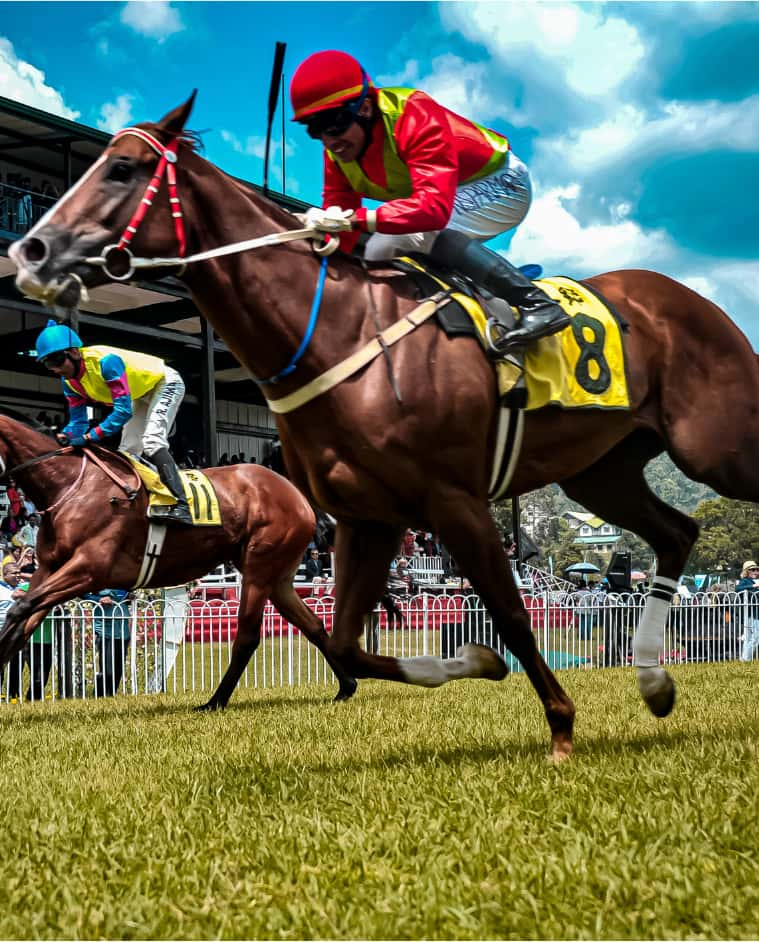 How do I find the Grand National bet market, runners, and odds?
If you are betting online, the big bookies such as William Hill, Paddy Power and Betfair will have the upcoming Grand National market on their sites throughout the year, even though the race is only run once a year in April. So, if you're super organised you can place a bet on the Grand National ante-post (future races) at any time via a verified bookmaker.  Bookmaker sites will display the Grand National bet market within their website 'Horse Racing' section.  Look for 'Future Races' or 'Ante post'.
Alternatively, if you are placing your Grand National bet on the day of the race, head to 'Today's Racing' instead.  There you will find the Grand National – Aintree event and when you've clicked on it, all the runners and the betting odds will be listed.
The Grand National website is also a great source of information and will not only show you all the latest information, it will provide some great tips too.
Alternatively, if you are traditional like us, you may prefer to study all the horses when they are printed within the newspaper on the morning of the race.
If you are lucky enough to attend the race in person, you will be given a race card upon entry to Aintree that details all the runners and odds within it.  Alternatively, you can visit one of the many bookmakers next to the racetrack, where they have all the runners and odds displayed on their screen/chalkboard.  You can also place your bet directly with them, by simply telling them which horse you want to bet on, what type of bet you'd like to make (i.e. win or each way), and how much you would like to bet.  You can then hand the bookie your cash and he will issue a ticket with the details on the bet on and how much you will win if your horse comes in!
Studying a horses form
By studying the form of all the horses in the race, whether you are studying them on a race card, in the newspaper or online, you will find out everything you need to know about the horses running the Grand National. We've labelled up an example below to help you: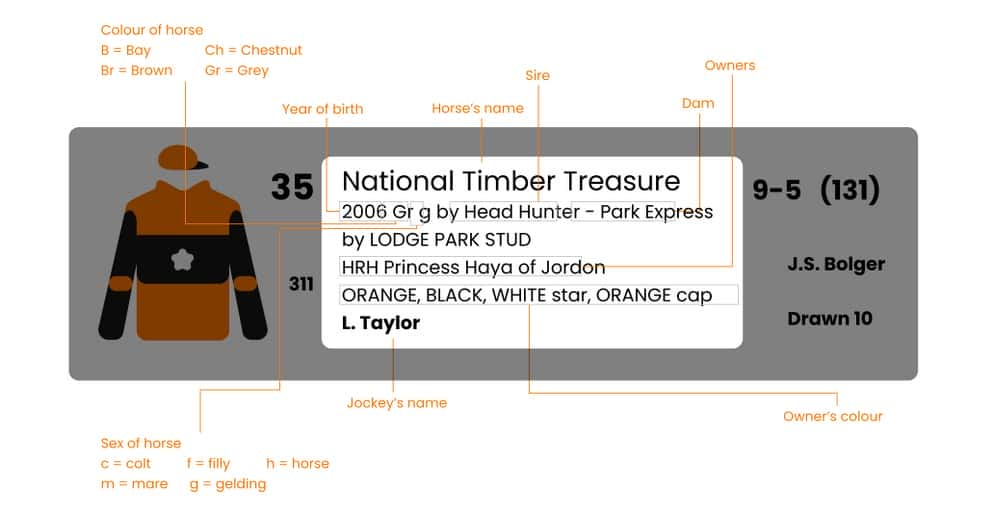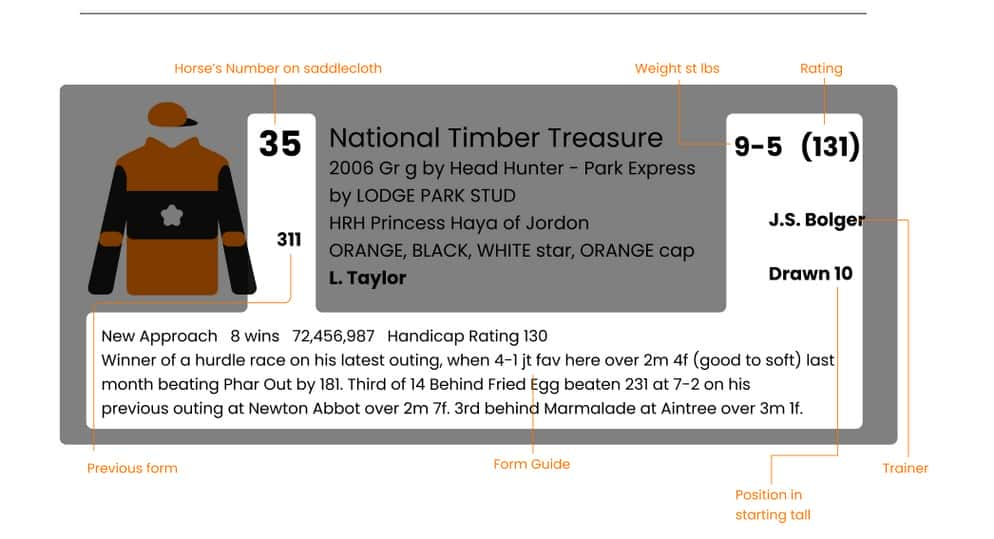 Studying form is all well and good but not everyone wants to follow conventional methods when picking their winning horse!  We've heard lots of other successful methods of selection too including picking the jockey's colours that match your tie/dress, choosing the horse's name that is the same as someone in your family or has special meaning to you, and the most reliable method of all…closing your eyes and picking one off the page at random!
Bet types: Betting to win or each way?
Once you've studied the form of all the horses that are running in the race and have chosen the horse(s) you want to bet on, you're ready to place your bet.
A win bet is simply when you bet only on a horse to win the race.  Your horse must win for you to get a return.
In most horse races, the idea is to pick the winner, but in a race as big and challenging as the Grand National, the chances of picking the winner out of a field of 40 runners, is tricky.  Placing an 'each-way' bet provides you with a better chance to get a return on your money if the horse you back doesn't win but instead finishes in 2nd, 3rd, 4th (or sometimes 5th) place – the number of places paid for each-way bets depends on the number of runners and what your bookie is paying out for.
To clarify, an each-way bet means you are betting on two things:
1. The horse will win
2. It will finish anywhere up to 4th or 5th
This means your bet is made up of two elements: the 'Win' and the 'Place' (half your stake is on the winner of the race and half is on whether the horse finishes in a place).  Each part of your bet must be an equal stake, e.g. a £5 each way bet will have £5 on the 'Win' and £5 on the 'Place' making a total stake of £10.
When weighing up whether to bet to win or place and each-way bet, you should consider your budget, the number of runners, the odds of your horses and how many places your bookie is paying out for.
How to calculate the winnings in an each-way bet
Remember, when you place each way bets, you effectively have two different elements to the bet – the 'win' element and the 'place' element.
Every year, the bookies try and outdo each other to offer extra Grand National places.  The majority pay four or five places for each-way bets on the Grand National with each-way terms of 1/5 or 1/4. This means that if the each-way terms are 1/5 odds, the place part of the bet will pay out at 1/5 of the "to-win" odds on offer.  If the each-way terms are 1/4 odds, the place part of the bet will pay out at 1/4 of the "to-win" odds on offer. Some bookmakers have been known to offer 1/6.
Example: 
Let's say you back a horse with £1 each way at odds of 12/1 and it finishes 3rd. Your Bookie is paying out at 1/4 of the odds.  Your returns will be as follows:
The £1 win part of the bet is lost.
The £1 place part of the bet is settled by dividing the odds by the place factor of the race (in this case 1/4 ). Therefore, 12/1 @ 1/4 the odds: 12 divided by 4 = 3/1. £1 at 3/1 = £4 returns.
Here are some other examples (taken from grandnational.fans) based on pay-outs at 1/5 of the quoted odds for an each-way bet where your horse placed 2nd, 3rd, 4th (5th or 6th selected book makers only). You will also get your place stake back.
| | | |
| --- | --- | --- |
| STAKE | ODDS | WINNINGS |
| £5 E / W | 5 / 1 | £5 |
| £5 E / W | 8 / 1 | £8 |
| £5 E / W | 10 / 1 | £10 |
| £5 E / W | 12 / 1 | £12 |
| £5 E / W | 16 / 1 | £16 |
| £5 E / W | 20 / 1 | £20 |
| £5 E / W | 25 / 1 | £25 |
| £5 E / W | 33 / 1 | £33 |
| £5 E / W | 40 / 1 | £40 |
| £5 E / W | 50 / 1 | £50 |
| £5 E / W | 66 / 1 | £66 |
| £5 E / W | 100 / 1 | £100 |
Source: grandnational.fans
Other clear examples can be found here.
In short, betting to win means that if your horse wins you will win more, but betting each-way you will win less but have a greater chance of winning.
How to place a bet on the Grand National online:
Every bookmaker has a unique website layout, but the step-by-step process for how to place a bet on the Grand National will be very similar across the board:
When you arrive on the homepage of your chosen bookmakers, look for the button or text that invites you to 'join'/ 'register'/'open an account' or something similar (if you already have an account set up then you would simply need to 'log in').
Clicking the above button should open a registration screen, where you can enter your personal details, and welcome promotional offers code (if one exists). It is not uncommon to be offered a free bet or similar offer upon registration to welcome you to the site. Sometimes, you may be asked to enter your card details and deposit, or you may be asked at the bet confirmation stage for this. It will depend on which bookmakers you are registering with. Either way, the secure padlock icon should be visible on payment pages to reassure you that your betting funds are safe and protected.
Once registered, you may be asked to log in again, to ensure your email has been verified, and your account name and password have been entered correctly.
Once you are back on the homepage, look for the 'Betting' or 'horse racing' button on your screen and click on it. Then look for 'future races' or the Grand National.
Next, find the exact market and selection you'd like to bet on. In this instance this will be Aintree – Grand National winner market, but you may want to consider Grand National 'specials' markets too, where you can place bets on things like the total horses to finish, or that the race will be won by a horse owned by JP McManus etc. There are normally lots of special betting offers to choose from.
Once you've decided your selections, click on them to add them to your online bet slip. Then enter your stake and decide whether you want to back your horse to win the Grand National outright, or each-way.
Finally, confirm your selection and you're done! You have now successfully placed an online bet on the Grand National!
How to place a bet on the Grand National at a betting shop
Many people still enjoy visiting betting shops to place their bet.  It is the traditional way, and many people still prefer reaping some pre-race atmosphere, and socialising with others. Often, there is a nice pub located nearby to the betting shop to watch the race in too! You will also be close by when you need to collect your winnings afterwards!
All you must do is take a blank betting slip (there will be lots available in the bookies), then write the name or number of the horse, whether it is a win or each-way bet, how much you are staking, and the time and venue of the race. Simply, hand your slip to whoever is working behind the counter in the shop. Before placing the bet, make sure to find out the current odds as they could be much lower by the time you place the bet. There will be plenty of screens around the shop displaying the current odds.
Remember to keep your bet slip safe because you will need it to collect your winnings!
How to collect your winnings?

If you placed your bet in a betting shop, you will need to go back to the shop and hand your betting slip to the person working there. They will then pay out your winnings to you.
Likewise, if you are at Aintree watching the race in person, you will need to go back to the bookie that you placed your bet with and take your bet ticket with you to claim your returns.
If you placed your bet online, login to the bookmaker that you set up an account with (and used to place your bet).
When you click on 'My Account' you will see an option to 'withdraw' or 'deposit' your winnings.
If you choose to 'withdraw' then your winnings will go into the bank account you used when you set up your bookmaker account (this will not be instant though. It can take anywhere from a few hours, to a few days or sometimes even a week to transfer).
If you select 'deposit' your winnings will remain deposited in your bookmaker account for you to use to bet with another time.
There you have it, Next time the Grand National comes around, betting on the race will be a doddle. You will not only enhance your experience by placing your own bets but winning will feel even more rewarding too!
Don't forget, if you are a horse owner, our bespoke timber horse stable ranges may prove beneficial to you, whether you have just one horse to stable, or a whole livery yard full, we can help. Our National Stable range would be the most appropriate to highlight within this article!
Alternatively, if you are reading this article because you just enjoy a flutter, you may prefer to check out our other bespoke timber buildings – from summer houses, club houses, garden offices and wooden garages – we're here for you.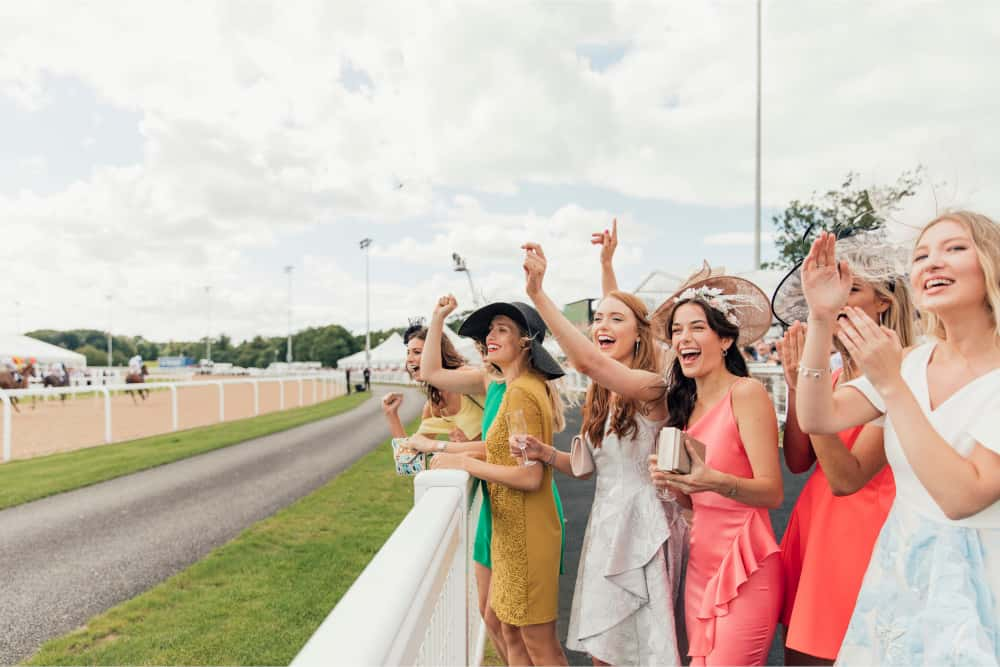 Good luck on race day…we hope your horse comes in!
Your free brochure
We make sure every prospective client has a copy of our brochure – this gives you the chance to browse examples of our products and see the quality of our workmanship. Plus, you will find details of our pricing so you can begin planning your project properly. From a stable block to a mobile stable, you will find an option to suit you perfectly.
Our brochure is 100% free of charge and is the perfect way to get your project off the ground.
Enter your postcode to request your brochure.