Whilst it's good for horses to spend plenty of time pastured, many will need to be stabled at night for at least part of the year. The amount of time they will need to be stabled for will all depend on the breed of the horse, their general health and the weather conditions. You can obtain guidance about stabling your horses, but as the owner, you will know your animal best. Just like people, each horse has its own temperament, preferences and health needs; by monitoring each of these closely, you can make the best decision for your animal's health and happiness.
Why might you choose to stable your horse at night?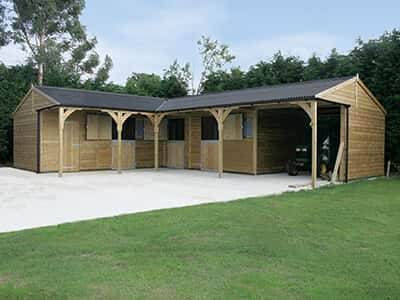 These are some of the reasons that you might want to begin bringing your horse inside at night:
You are preparing your horse for a show or sale. If you are getting ready to enter your horse into a show or their new owner, you will be keen to maintain a shorter than usual coat and therefore, it may be necessary to limit their exposure to the cold.
They have a thin winter coat. If your horse has a thin winter coat, or their coat is thinner one year, then they might need to be stabled at night. Horses' winter coats are actually triggered to grow when the days begin to get shorter – it's not so much about the temperature as the amount of light they get. This means if you live further down south where days are longer, your horse's winter coat might not grow as readily and they may need some additional protection. Make sure they have a good quality rug whilst out in the field – these can protect them down to very low temperatures. You might want to consider stabling horses at night for their safety and comfort.
The fields are too muddy. Bad weather and excessively muddy fields could cause a horse to slip, or damage a tendon if they are running. It's also bad for the field as it will become poached, so your grass will need time to recover. Stabling your horse overnight can give both the horse and the field some much-needed recovery time.
Your horse doesn't have access to shelters in the field. Horses that are exposed to the elements all night long will often fare better when kept in a stable. If you would prefer to keep your horse out in the pasture, you might want to consider the option of a field shelter. This is a shelter that can be erected in your horse's pasture, and they can be fully mobile if you wish – meaning they usually won't require planning permission either. Giving your horse adequate shelter whilst in their field can mean that you don't have to bring them into a stable at night and they can enjoy more time out of doors.
Your horse isn't well, or is perhaps getting older and slowing down. If a horse has health problems, they might need to be kept indoors temporarily to allow them to recover in a warm, dry spot. Some conditions will require specialist treatment, in particular mud fever, which can cause painful sores and lead to lameness if left untreated. It will begin in the pastern or heel, and lesions will move up the leg, around the fetlock and up to the knee in severe cases. Consult your vet if you think your hose may be affected by mud fever. As the name suggests, this condition thrives in wet, muddy conditions. It might also be exacerbated by spiky vegetation and weeds in fields, or by sandy floors and sawdust. You might need to keep your horse stabled in dry conditions while they recover, but check with your vet that you are providing the right conditions and bedding to promote healing.
Stables at night, pastures by day – achieving the perfect balance
For most horses, a combination of stable and pasture will keep them in the best possible health. They will be able to get all the exercise they need during the day and can socialise with other horses as well, then move into a well-protected, cosy stable at night. Stables also make horse care easier for you, as they will be there ready for you to tack up whenever you want to ride. You will have better control over their diet and welfare, and will be able to check them over physically whenever you bring them in at night.
If your horses miss the company of others, make sure loose boxes are located close together or consider an American barn to allow animals to be stabled together.
Making a stable a perfect environment for your horse
Whilst a night spent in a stable can be good for a horse, you do need to be careful to get the conditions right. Horses need good-quality sleep – they can suffer from sleep deprivation just like we can – but they will usually only sleep for around four hours a night. They will need to be kept entertained for the rest of their time spent in their stable. Here are some ideas:
Provide plenty of hay and straw for comfort. This will make the stable feel welcoming and your horse will enjoy munching away on hay any time of the day or night. If your horse suffers from allergies or other health conditions, talk to your vet about suitable bedding materials.
Give your horses toys to keep them entertained. A stable environment isn't the most naturally interesting for horses, so you will need to make sure they have everything they require to keep them occupied. You can buy a variety of horse toys for stables to keep them entertained.
Stable them close to other horses for the social element. Horses are herd animals and love company. Make sure they are stabled close enough to other horses for the social element and don't leave them alone in stables for too long.
Muck out your stables regularly. Damp bedding can cause health problems for horses and generally won't provide a good environment for them. The frequency will depend on the type of bedding you use. Sometimes with absorbent woodchip, deep littering might be enough. If you use hay and straw, you will probably need to muck out every day.
Choose a practical design. If the design is logical and all ancillary buildings, such as tack rooms and hay barns, are close by, it will be easier for you to streamline horse care. Both you and your horse will appreciate this!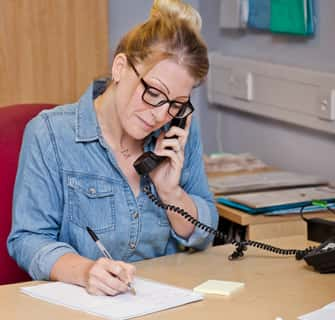 Get in touch
Want advice on stables? Call 01233 884502, email [email protected] or send us a message and we will respond ASAP. We are happy to tell you about the stable designs we can offer to address any concerns you have and give your horse a better way of life.
Choosing appropriate stables for your horses
Stables are not a one-size-fits-all product. Whilst they are often required for the wellbeing of horses, there will be different features and configurations that will suit different animals and give them the best quality of life possible. It's also important that you choose stabling that meets your own needs as the owner, making horse care as easy as possible.
We offer four stable ranges to give all horse owners plenty of stable choice, as well as field shelters, mobile stables and shelters and American barns. Each of our ranges can be fully personalised to ensure you will get exactly what you need from your stables.
Here is a summary of what we can offer you for your horses:
Novice stables. Perfect for smaller horses and your first pony.
National stables. A step up from the novice, with some added extras.
Grand National stables. Suitable for bigger horses, offering modern solutions.
Cheltenham Gold stables. The perfect stables for professional horse owners.
American barns. A sociable and convenient sleeping solution for horses.
Field shelters. Mobile and permanent shelters for out in the field.
Find out about our stables and get pricing details for all ranges. Request your free brochure.
Explore your options further with a copy of our brochure
Get the process started by requesting your free National Timber Buildings brochure. It's full of design ideas, additional product information, and we'll send it to you completely free of charge.
Enter your postcode to request your brochure.