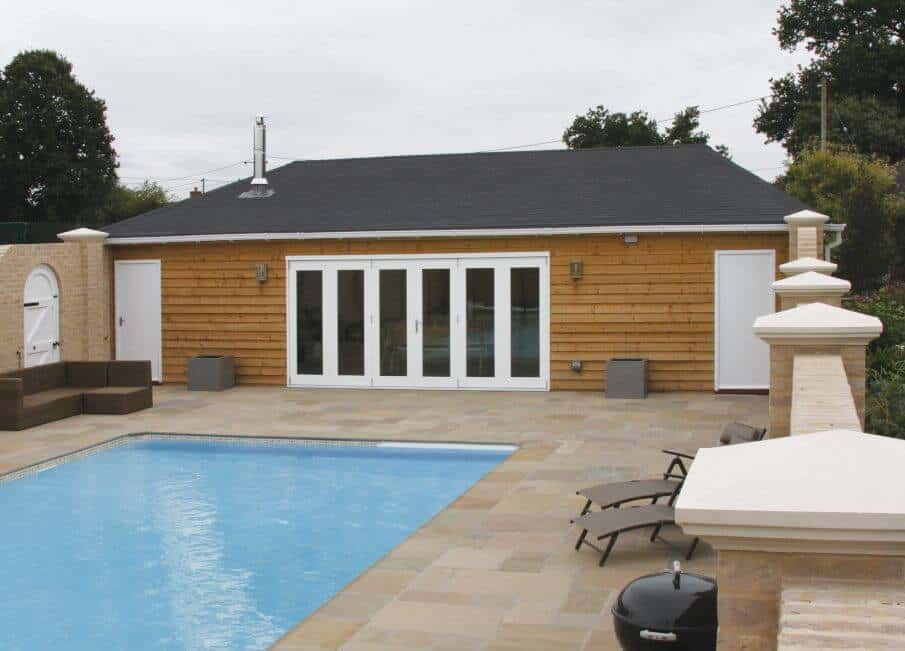 Wooden pool houses and leisure rooms for that added convenience
We design and build wooden pool houses to give you that extra convenience when using your outdoor swimming pool. Our pool houses make a convenient place to get changed, or fit it out as a shower room, giving you better access to your swimming pool and making use of the whole area around it. Or, if you'd like to make the space more about relaxation, why not install a poolside leisure room, giving you a place to get away from it all in the great outdoors?
Our pool houses are also used to increase accessibility to swimming pool areas. We regularly work with clients who have hydrotherapy pools in their gardens, and a pool house can offer a space to get changed or to store necessary equipment. If you have any accessibility needs, please just talk to us and we will create something that is bespoke for you.
Explore leisure rooms and pool houses further with a copy of our brochure
Get the process started by requesting your free National Timber Buildings brochure. It's full of design ideas, additional product information, and we'll send it to you completely free of charge.
Enter your postcode to request your brochure.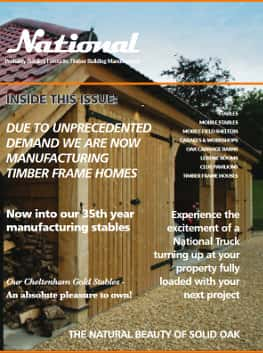 Designing your
wooden pool house
Your pool house will be designed by our in-house team, ensuring it is perfect for you and everything that you want it to be. We always give you the chance to sign off your designs before we go ahead, so you will have complete confidence in the process.
If you have any accessibility needs, please just discuss this with your designer and will make sure we accommodate you fully.
You will often need planning permission to construct a pool or leisure room. Find out more on our blog.
Discover our design process and see how we can help you.
If you have any questions about pool houses or leisure rooms, we will be happy to help you.
Please call 01233 740944 or email [email protected].
The benefits of a
pool or leisure room
Bespoke to you. Your pool house or leisure room will be designed and built with your requirements in mind, so it will be perfect for you and your family.
Accommodating and accessible. We often build pool houses for people with a disability or specific accessibility requirements. We work to your needs.
Tanalised timber. We use quality, tanalised timber, meaning it is protected from fungus and from insect attacks. Your pool house will be built to last.
Highly versatile. If you want to use your pool house as a leisure room in the future or want to turn your leisure room into a changing room, you can.
No condensation. The use of high-quality wood and the well-ventilated nature of your pool house make it suitable for this naturally damp environment.
The quality of your pool house will exceed expectations
Our design-and-build process has been honed to perfection during our 35 years in business. Our clever designers come up with plans that will suit you down to the ground, making your ideas become reality. Everything we do is backed up by traditional construction methods – the ones that have seen us become a household name.
Quality isn't just a word for us – it's a process. Find out more.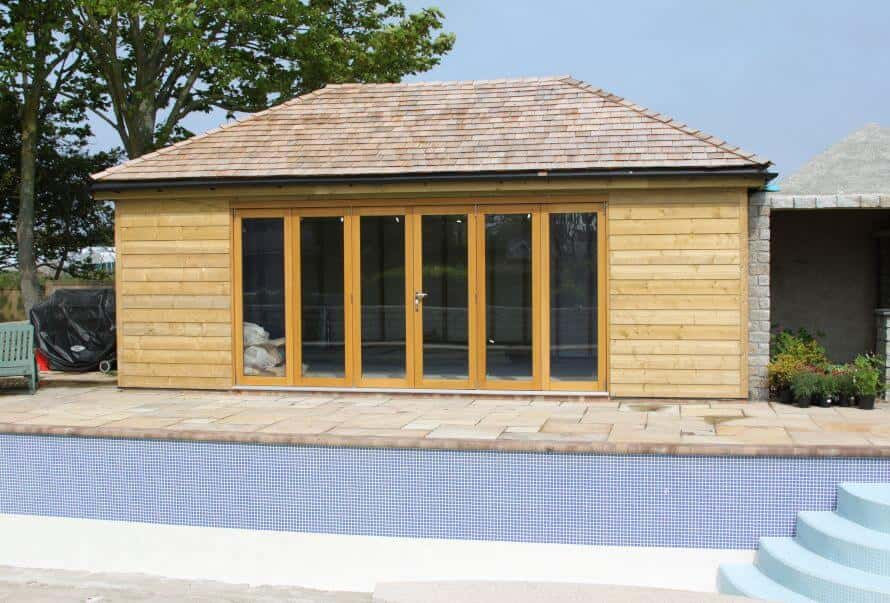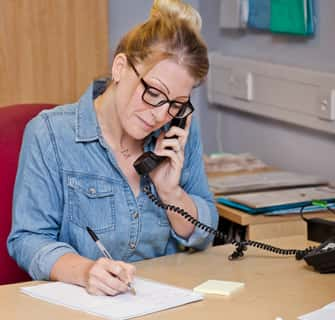 Get in touch
Contact National Timber Buildings to ask any questions about stables, barns and timber structures. Our team are on hand to help.
Call us: 01233 740944
Email us: [email protected]
Our bespoke timber buildings range