Space, light, comfort… our timber-frame homes are beautiful
Due to the popularity of our timber buildings, we also design and manufacture timber-frame houses. We have a unique position in the market as one of the leading installers of timber buildings, meaning we also have excellent buying power. This means two key things for you: better quality and better prices.
We can talk to you about timber-frame houses at any stage of the process, but clients generally approach us to move ahead with a project once an architect has drawn up plans and they have secured planning permission. We have in-house structural engineers who will prepare drawings and calculations, ensuring your building will be compliant with your planning consent. Our in-house erection team can then get to work on the build, which will usually only take a week or two. We will discuss all timescales with you when we first talk about your designs.
Find out more about our timber-frame buildings and see examples of our projects. Request a copy of our brochure – it is completely free and will give you plenty of ideas to begin with.
Explore your timber frame home options further with a copy of our brochure
Get the process started by requesting your free National Timber Buildings brochure. It's full of design ideas, additional product information, and we'll send it to you completely free of charge.
Enter your postcode to request your brochure.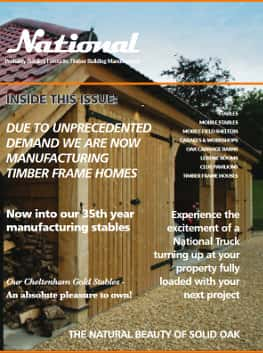 A dedicated design process
A timber-frame building is your home, a place to live and work, so it has to be right for you. We work in close consultation with you on your designs, ensuring your home will contain everything you want and need. You always sign off designs before we get to work, giving you complete peace of mind. Our in-house CAD designers make sure your home meets your requirements and aspirations on paper, before moving on to creating it in the flesh.
Find out more about our design process.
If you have any questions about our timber-frame homes, we will be happy to help you.
Please call 01233 740944 or email [email protected].
The benefits of
timber-frame houses
A beautiful outlook. High ceilings, exposed beams, an open-plan environment…timber frame houses really are beautiful. They offer you a wonderful way of life.
Easy fit-out process. With a timber-frame construction, it is very easy to install plumbing and electrics after the frame has been erected, making the process simpler.
Quick construction. It usually only takes a week or two to get your timber frame in place. It is left wrapped and watertight, so windows, doors and roofs can be installed.
A choice of cladding. You can choose the cladding that suits you in terms of aesthetics and insulation – there is a choice of solid wood or fibre cement.
The option of oak. We have a dedicated oak joinery workshop and can incorporate oak into your design, giving your structure a quintessentially English feel.
Timber-frame houses – the quality shows
We have 35 years' experience in erecting timber buildings – and it shows. During this time, we have perfected our techniques, keeping them rooted in tradition as this is what works best and produces the most aesthetically pleasing results. We are a household name in the industry, so you know National will always do an excellent job.
Learn more about our process and the quality behind our construction.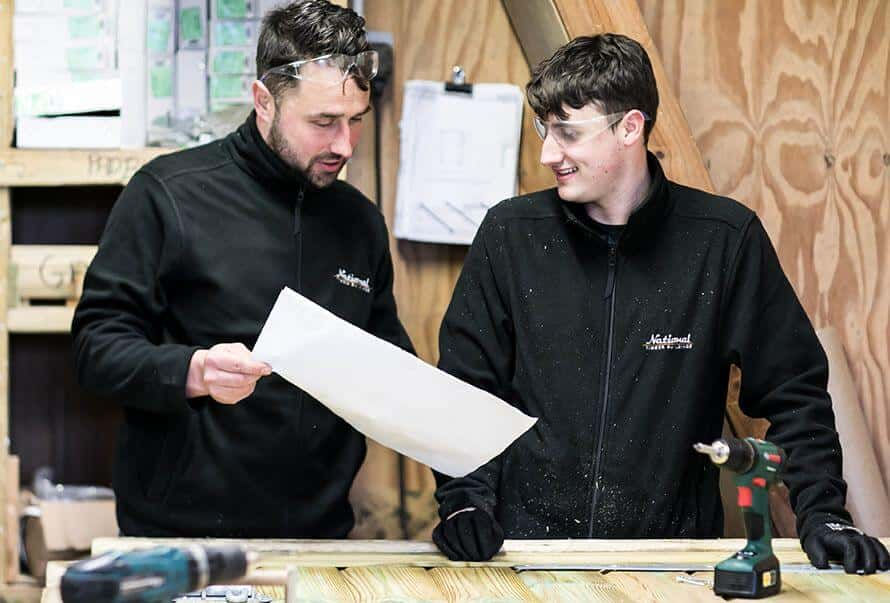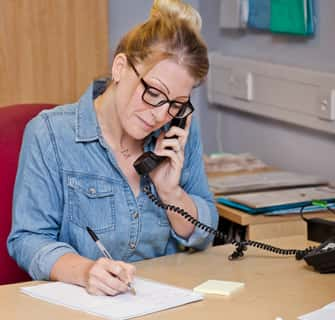 Get in touch
Contact National Timber Buildings to ask any questions about stables, barns and timber structures. Our team are on hand to help.
Call us: 01233 740944
Email us: [email protected]
Our bespoke timber buildings range