Oak fronted carriage barn project in Selling, Kent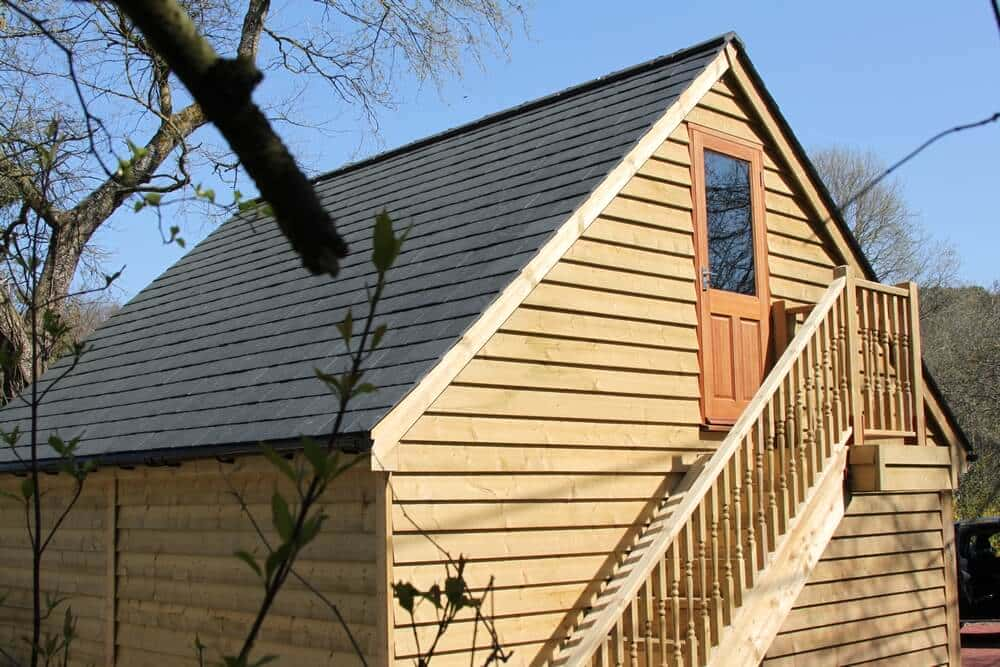 Location: Perry Wood, Selling, Kent ME13 9RU.
Project: Oak fronted carriage barn with a room above.
Specifications: 6m x 6m with 1.2m external staircase, and upgraded 8×8" oak support posts to provide a more solid look.
The story: We were asked by our existing clients Mr and Mrs Pascal to design and install an oak fronted carriage barn for them at their home in Selling, Kent. This was a challenging project to plan, as they wanted to retain a parking space where the stairs were located. Usually, an external staircase requires two posts to support the platform, so we consulted with our structural engineer to find a solution. They designed a bespoke floating staircase and reversed the direction of the stairs, so the client could park underneath the floating stair platform. This meant we could create a beautiful oak fronted carriage barn, as well as solving a problem for our clients.
Client Testimonial:
"We moved to our home in a rural location a few years ago and have worked hard to create grounds that complement the almost two-hundred-year-old property. The last piece of the jigsaw was to replace a concrete and asbestos roofed dilapidated garage, with a building that enhanced its surroundings in an Area of Outstanding Natural Beauty.
We undertook a lot of research to find a company that could provide the high-quality building we wanted at a reasonable price. National were very competitive on price and provided an extremely high-quality building.
We had a few challenges with our planning authority, but National helped us along the way and made the whole process run smoothly. They also dealt with a somewhat challenging site and recommended skilled and reliable builders to carry out the ground works.
Once planning approval had been provided and the groundworks completed, National were able to erect the building quickly. Because we live on a narrow country lane, they even carried the roof down the road!
We are delighted with how our new building looks, as is the Local Conservation Officer and lots of passers-by. Thanks to National and, in particular, Lee, who helped us all the way along."
Mr and Mrs Pascal