BEAUTIFUL, BESPOKE CARRIAGE HOUSES FOR KENT HOMEOWNERS
Locally made, two-storey outbuildings crafted to your personal requirements.
With average property prices in the South East of England considerably lower than the London average, it is clear to see how getting more property for your money has made commuting into the capital from the southern home counties, an even more attractive trend, especially for new or growing families who seem to enjoy a slower paced, countryside based homelife combined with the wider work opportunities found in the City.  Our home county of Kent is a particular magnet for exactly these reasons.
Simple, practical home spaces often come at a premium and while adding square footage is pretty much guaranteed to boost the value of your home, the return on investment, coupled with time, effort and disruption considerations often pushes adding space to the bottom of the priority list.  Until now…
OUR TWO-STOREY, VERSATILE TIMBER BUILDINGS ARE THE IDEAL SOLUTION FOR ADDING AFFORDABLE SPACE FOR YOUR LEISURE, WORK OR STORAGE NEEDS.
Explore your carriage houses options further with a copy of our brochure
Get the process started by requesting your free National Timber Buildings brochure. It's full of design ideas, additional product information, and we'll send it to you completely free of charge.
Enter your postcode to request your brochure.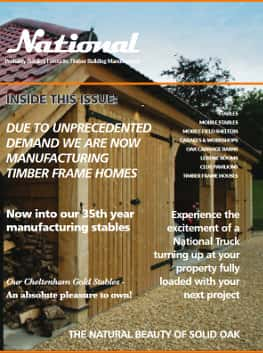 What do our timber carriage houses look like?
Our two-storey, detached outbuildings measure 6 x 6 metres.
The ground floor can be an ideal space for storing a car, bike, van, boat, tools, or a luxury garage.
The first floor would be suited to an office, granny annexe, music, or games room.
We can design it specifically for your required use.
Specific features of our two-storey carriage houses include:
Traditional weatherboard cladding.
Prefabricated TR26 roof trusses.
Oak or Tanalised® treated frontage.
Granite padstones.
Dormer or Velux windows.
Natural slate to clay tile roof.
Front and rear guttering.
Hand crafted external staircase.
Joinery casement door.
Open fronted or enclosed with double doors.
Example of a two-storey carriage barn we designed, manufactured, and built locally in Kent, November 2020:
Cost of this particular build totalled:  £29,995 (including VAT).
A building designed for you
Subject to planning permission and building control approval, we work with you to design your ideal building that incorporates all the features you require, from the interior layout, the placement of doors and windows, right through to the exterior finish.
We know how important it is to design an attractive carriage house that conforms to planning requirements and is sympathetic to the existing property.  We will ensure that your timber carriage house sits comfortably alongside your property and complements its style, whether traditional, modern, or contemporary.  We can even guide you through your planning application.
We build and erect your carriage house ready for insulation and internal fit out by others.  Here is a good example of what can be achieved inside when your carriage barn is built: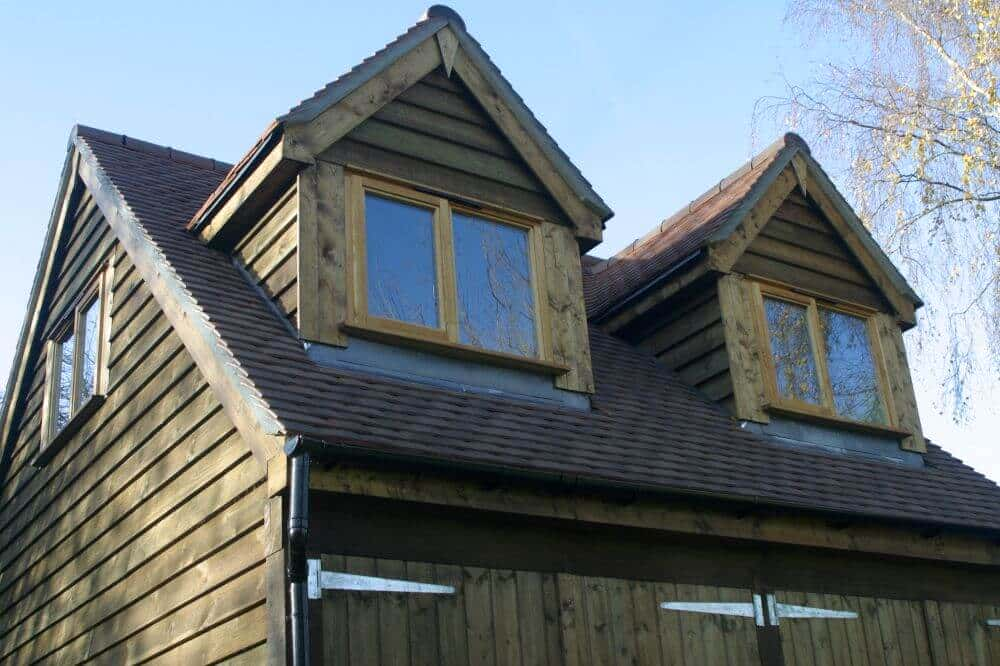 Benefits of our two-storey,
Kent built bespoke carriage houses
A high quality, affordable building to enhance your living, work, or leisure space. These buildings are no garden sheds – you will have ample additional space for your needs.
A weather-proof and secure place to store vehicles, tools, furniture, valuables or to live.
Create a luxurious home office – you could save hundreds of pounds on travel expenses and eliminate your commute.
High spec finish.
Relatively low cost to build comparable to the size, scale, level of detail and finish of the build.
Adds value to your property.
Designed, built, delivered, and erected in Kent.
The ideal solution for today's busy lifestyle
Our traditional construction methods have served us well during our 35 years in business, and we achieve premium results each and every time.  We only use materials of the highest quality, and your two-storey carriage house will be with you for many years to come.
When you consider the size and scale of the building coupled with its level of detail and quality craftmanship by a local, trusted business – it is incredible value.
If you are thinking of working from home more often, or are in need of some extra leisure, storage of living space – what are you waiting for?
Contact us today, your carriage awaits!