Timber workshops in Bedfordshire
We provide timber workshops in Bedfordshire that will give you more space for your business and save you time on maintenance. Our buildings are made from high-quality Tanalised® timber that doesn't require any special care or attention, making them low maintenance and easy to use.
We work closely with our clients to ensure their needs are met by our timber workshops in Bedfordshire. This means we create bespoke designs for each building, ensuring they meet all your requirements as well as being aesthetically pleasing additions to your property. When designing your timber workshop, we consider what you'll need the most often – whether this is storage space for tools or room to house your business.
Call 01233 740944 or send an email to [email protected] to talk to our expert team about the timber workshops we design and build in Bedfordshire.
Designed to meet your needs – bespoke timber
workshops in Bedfordshire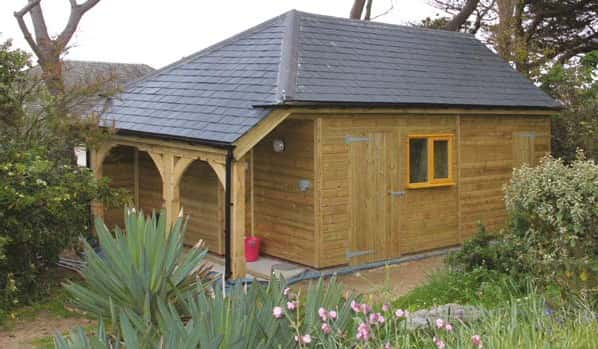 Have you been looking for a timber workshop in Bedfordshire? You may have noticed that pre-built options don't offer what you need. Our team will help you through the design process and ensure that your workshop is everything you want it to be. We build bespoke timber workshops in Bedfordshire to suit any size or shape requirements. So, whether you need a large wooden workshop, or a smaller garden workshop that will fit into a designated space, we can make it happen.
If this sounds like an option worth considering, then give us a call today to discuss your project with one of our friendly team members who are waiting to hear from you!
Explore your options further with a copy of our brochure
Our brochure will give you everything that you need to make an informed decision about how best to proceed with your project – including case studies of projects like yours. You can order one today by entering your postcode.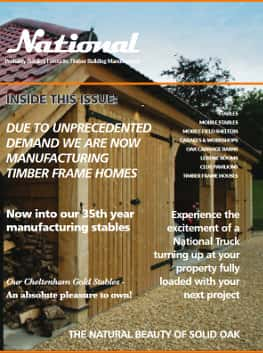 What do our clients think?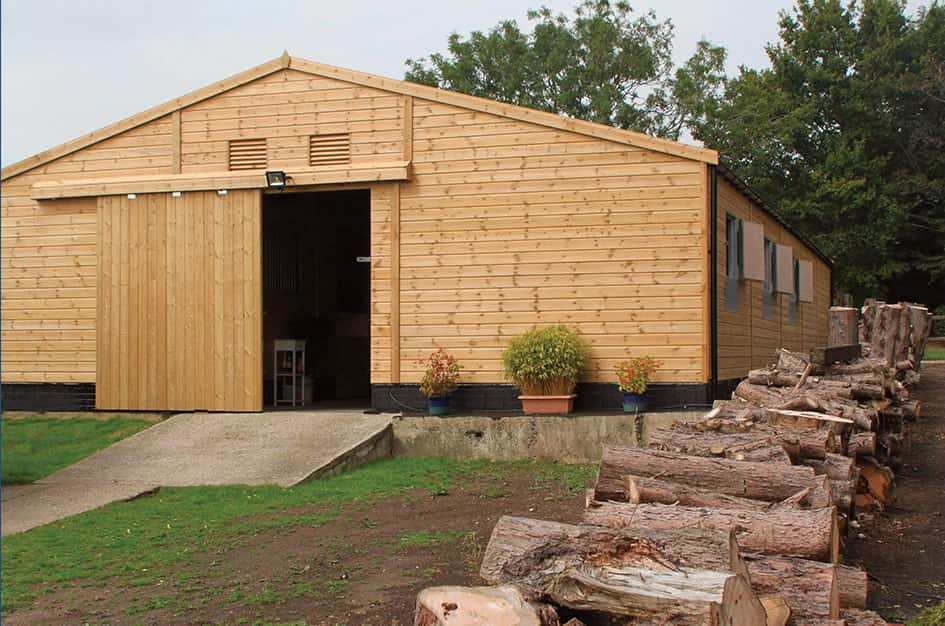 Do we build timber workshops in your town within Bedfordshire?
We can build new timber workshops in Bedfordshire and provide additional storage space – below is a list of the towns we have most frequently visited in Bedfordshire.
| | | | | |
| --- | --- | --- | --- | --- |
| Luton | Bedford | Dunstable | Leighton Buzzard | Kempston |
| Houghton Regis | Biggleswade | Flitwick | Sandy | Ampthill |
| Stotfold | Shefford | Cranfield | Barton-le-Clay | Bromham |
| Arlesey | Potton | Toddington | Wootton | Marston Moretaine |
The benefits of our timber
workshops in Bedfordshire
A timber workshop can be a great investment, but it's important to understand the potential problems before you buy one. You want a high-quality product that will last as long as possible and minimise maintenance costs over time.
National Timber Buildings is the UK's leading provider of timber workshops and stables thanks to our superior quality products and dedication to customer service. Our buildings are built with Tanalised® timber which means that they're designed to last for decades without sagging or rotting like untreated wood would. We also use roof lining as standard on all our buildings, helping them withstand changing climate conditions such as excess rain or heat from the sun, whilst also improving insulation levels inside your workshop. Call 01233 740944 or send an email to [email protected] to talk to our expert team.
A quality construction process for timber workshops in Bedfordshire
There are lots of companies out there who claim they can deliver you a high-quality timber workshop, but many of them don't have the experience or expertise required to do this. This means that you could end up with something that doesn't look as good as you had hoped for.
When it comes down to it, we believe our top-quality construction process is what sets us apart from everyone else. Our skilled team has been working together for more than 35 years – which means we have the ability and knowledge needed at every step along the way. You will get a quality bespoke timber building with plenty of room for expansion if necessary – plus outstanding aesthetics thanks to the traditional techniques used throughout our construction process in Bedfordshire.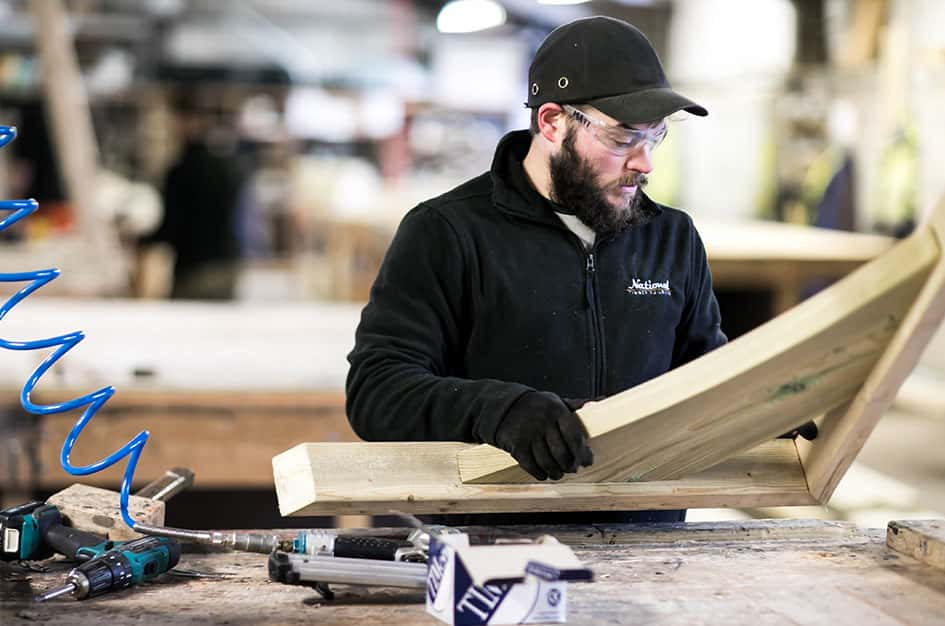 35+ years' experience producing
timber workshops in Bedfordshire
National Timber Buildings has been supplying quality timber buildings for more than 35 years. We'll guide you through every step of the process, from design and planning permission to construction and delivery. Our experienced team will help take away some of that stress!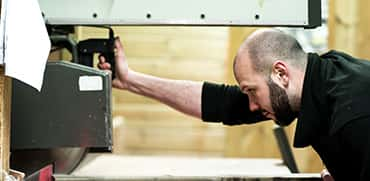 Industry-leading products.
Our timber workshops use Tanalised® timber and other high-quality components so that they're built to last. We only use the highest quality materials in our workshop kits so that your deck will be safe and secure for many years.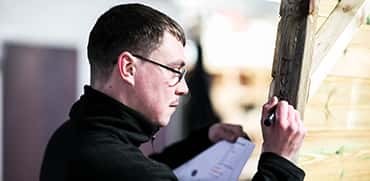 Quality control.
We will work with you to ensure your workshop meets all industry standards for safety and durability so that it will last for years to come. Our team has years of experience in the timber business, so we know how important high-quality products are when it comes to satisfying customers like yourself!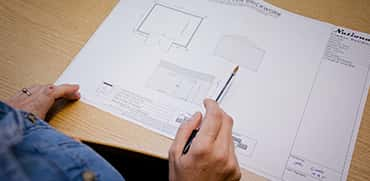 Accountability.
Our workshops are designed and built in-house, meaning that we can ensure they'll be of the highest quality before they reach you. It also means that if there is a problem with any aspect of your order, we'll do everything possible to rectify it as quickly as possible.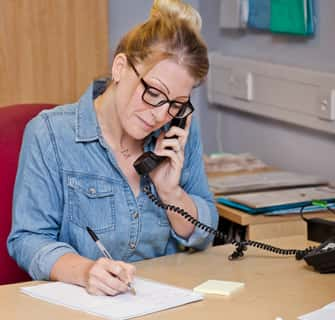 Get a quote for your timber workshops
Please get in touch if there is anything you would like to know about timber workshops. We have an expert team on hand who will be happy to answer all your questions.
Call us: 01233 740944
Email us: [email protected]
Where in Bedfordshire and the surrounding areas have we installed timber workshops
Over the years we have installed timber workshops all over Bedfordshire, including:
Clophill Road, Maulden
Rookery Road, Wyboston
Forrest Road, Hanslope, Milton Keynes
Shrubbery Lane, Wilden
Hazelwood Lane, Ampthill
Feldon Lane, Hemel Hempstead
Dunstable Road, Toddington
Long Lane, Toddington
Potton Road, Sandy
Clover Close, Luton
Blakeney Drive, Luton
High Street, Thurleigh
HBrackendale Road, Limbury