Bespoke insulated garden offices that are built to last

In the UK, the amount of people working from home has steadily increased over the last twenty years, culminating in around 5.6 million people remote working during the 2020 Covid-19 pandemic. Staring at the four walls of our living rooms for months on end during those long, challenging lockdowns, has made us all re-evaluate our homes, as well as the way we live and work.  Couple this with the persisting trends for flexible and homeworking, and it's unsurprising that homeowners are wanting to move 'office space' to the top of their home improvement priority list.
The number of those in employment who work mainly from home in the United Kingdom from 1998 to 2020: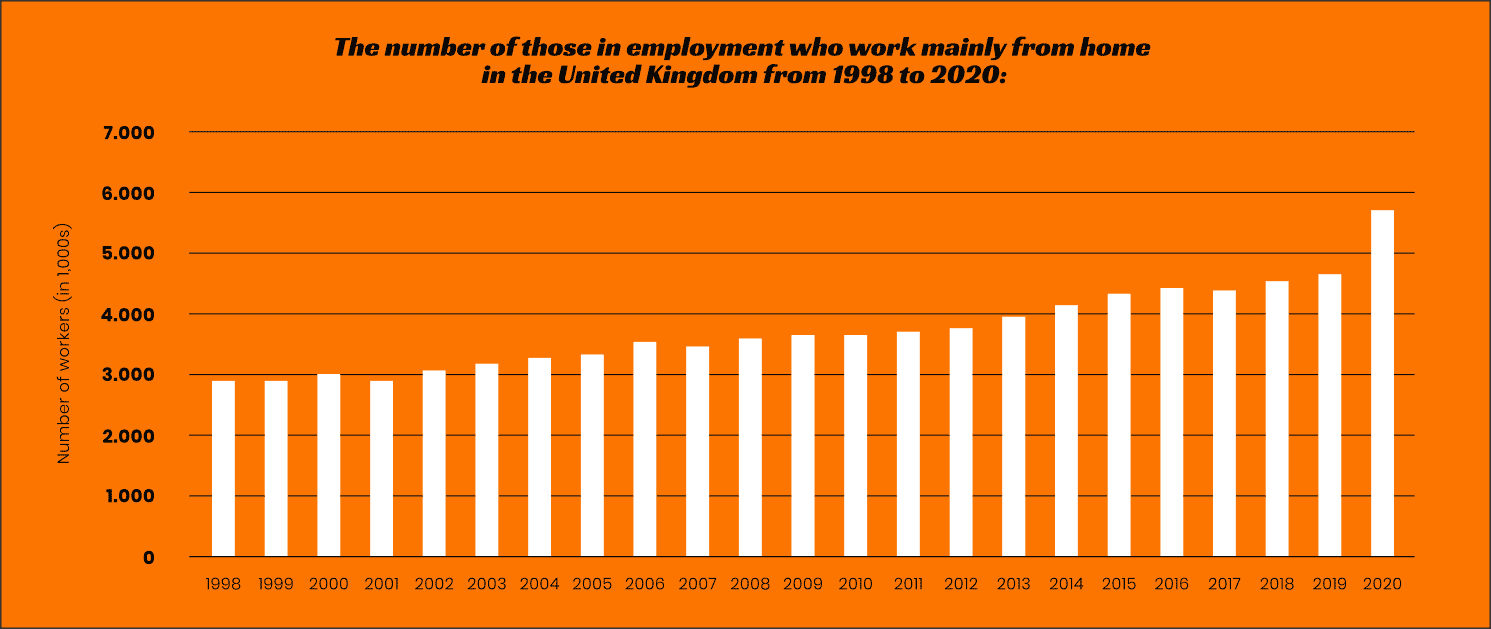 It seems that with house price growth remaining strong for the time being, the trend to improve rather than move will continue.  According to the Office for National Statistics (ONS), UK average house prices increased by 8.0% over the year to July 2021 (the average UK house price was £256,000 in July 2021, which is £19,000 higher than in July 2020).  Since then, Nationwide reported that house prices rose by 2.1% in August 2021 bringing annual house price growth to 11.0%.
With all this in mind, we are seeing an increased interest in insulated garden buildings from UK homeowners looking to add extra space and find a practical working from home solution.
Benefits of
bespoke insulated garden offices
Our wooden summer houses,garden rooms and home offices can be used year-round thanks to the superior insulation and timber we use.  Your office will be kept cool in the summer and warmer throughout the winter.
Our timber is tanalised and galvanised to help preserve the wood, protecting it from rot, fungus, mould, insect attack and general damp weather conditions.
Opting for a bespoke design will not only mean that your new office meets your needs perfectly, but you can decide which features you would like to include, such as:

Insulation and timber cladding
Double-glazed windows and doors
Verandas and canopies
Insulated floating flooring
Vaulted ceilings, with the option of exposed beams
You will also be able to kit out your garden office with full electrics
Providing a proper base is laid and regularly maintained your building will last over 30 years.
Versatility. As solid wooden structures, your office can easily be adapted if your needs change overtime – turn it into a summer house, gym or a well-earned bar when you retire!
Optimum productivity. Your garden office will provide you the perfect space to work, taking you away from the busy environment of your home and surroundings.
All our timber buildings are traditionally made, and quality checked.
Do you need planning permission for a garden office?
"Will I require planning permission" is a question our customers ask us a lot! Typically, 'outbuildings' are considered 'permitted developments', which means that no planning permission would be required for an insulated garden office providing that your structure is built in line with permitted development criteria, the main ones being:
The new building cannot take up more than 50% of the garden area and not exceed more than 50% of the garden area and not exceed more than 30m² in size.
Must not me higher than 2.5m if erected within 2m or any boundary.
Must not exceed 4m in height if erected more than 2m from any boundary.
The building must not be positioned between the front of the of the house line and road/path/pathway.
Restrictions will apply to listed buildings, Areas of Outstanding Natural Beauty and conservation areas.
As experts in our field with over 35 years' experience erecting timber structures, we know a thing or two about planning permission, so if you are unsure on anything, we will happily advise.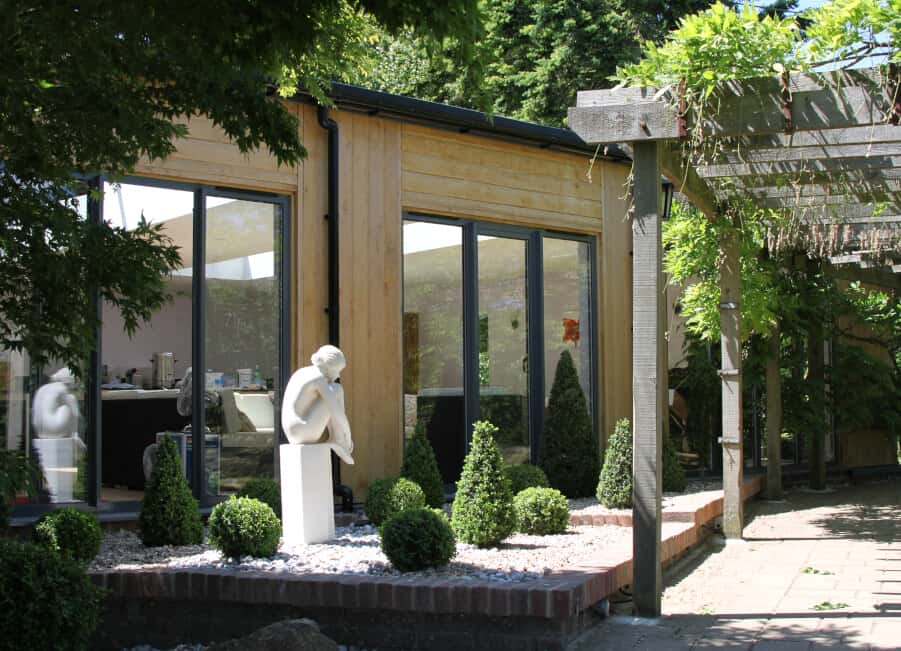 Garden office design
Our in-house designers will create the perfect insulated garden office for you.  Simply tell us what your garden office needs to have and where you would like it situated and we will get designing. Whether you want a flat roof, a mezzanine level, double-glazing, unusual finishes, or a particular layout we will listen to your needs and wants and adopt ideas and designs accordingly.  Many of our clients know exactly what they want from their garden offices, which is absolutely fine too, we will work to your requirements. You will always sign off design before we start work to make sure you are 100% happy with your final design.  Our design team have a wealth of experience to offer to ensure you get exactly what you need from your garden building.
We do have a show site at our premises in mid-Kent if you would like to view some of our buildings for inspiration.  Plus, there are many satisfied customers who are more than happy to allow a viewing at their home in your areas.  We can arrange this for you.
Give us an idea of how much space we have to work with.
If you know what you want your garden office to be like, show us sketches or photos, and tell us what you want.  If you don't have any ideas, that's fine as well.
We will start work on your designs and send over the initial drawings for your feedback.  We will keep amending them until you are completely satisfied.
We will get design approval from you.
We will prepare drawings for your groundwork (if required).  These can be passed onto your chosen groundworkers to get your site ready (we do not offer groundworks.  We ask that you contact local builders for this as it will prove more cost effective and easier to manage.  We provide all the details and dimensions required for your appointed builder).
Meanwhile, we will begin prepping your garden office in our factory, getting parts prepared and ready for assembly. Once you have scheduled your groundwork, we will book in a suitable date for delivery and installation.
Garden office ideas

Here are some of the insulated garden offices we have installed recently:
Don't just take our word for it…

I ordered a bespoke garden office building from National Timber Buildings, which was delivered and installed last month. The whole process from our initial chat about design, through delivery and installation was very professionally handled and the team were brilliant. I am really pleased with the quality of my building, which looks absolutely fantastic. I highly recommend National Timber Buildings and would not hesitate to use them again.

M. Ulyatt
Our fully insulated, bespoke wooden garden offices are a far cry from basic log cabins!  They can offer so many benefits and opportunities that home offices simply can't. Plus, our team of experts will make the entire design and build process completely hassle free for you, leaving you able to simply enjoy your new workspace during all seasons. If you would like to chat with a member of the team regarding a garden office or other timber building project.
Give us a call on 01233 740944, we'd love to chat.