Maybe you are thinking of building yourself a garden office, a workout area or new garage? Maybe you are just looking to add more living space? Whatever your reason for contemplating an outbuilding, you will undoubtedly what to maximise the return on your investment by adding as much value to your home in the process.  If you're having a tricky time deciding on what construction material will work best for you, your property and add the most value, this blog is for you. We give an overview of the benefits that a timber (wood) garage or outbuilding will give you over that of a brick one.
To brick or timber? That is the question!
Aesthetics
Timber garages have a 'natural' aesthetic by virtue of their timber-clad exterior. Natural materials such as wood, brings interest, balance and warmth to your interior space and boasts the ability to blend into its natural surroundings replicating the effects of spending time outside in the natural environment. A timber outbuilding will sit comfortably alongside your property whether you have a traditional, modern or contemporary style home.
Brick garages on the other hand, are constructed from scratch using bricks and mortar. This allows you to match the build style to suit your property but, there is nothing natural looking about bricks!  You will need to consider the surroundings of your home to ensure minimal disruption to its aesthetic appeal.
Versatility and value add
Both timber and brick are excellent for creating bespoke, tailored spaces that are separate from the house and utilise the space in the garden, allowing you to discreetly expand your home space whilst adding value. We design and build our timber garages and outbuildings bespoke for every customer to ensure we match your requirements perfectly. Designing your layout, look and finish allows your garage to have the flexibility to become whatever you want it to be. Our two storey carriage houses for example, are ideal for storing a car, bike, van or a luxury garage on the ground floor while the first floor would be suited to an office, granny annexe, games room or extra living room.
We can create timber buildings that are the focal point of the property – whole new living spaces – adding real value.
Brick garages are good for creating smaller spaces, such as car ports and of course, they can be scaled up to add additional rooms, but it can become expensive to do so when including value adding features like a second floor when compared to timber constructed buildings.
Planning Permission
When it comes to planning permission for your garage, the answer for both brick and timber construction is…it depends. If your garage falls within certain criteria it is considered 'permitted development', meaning you won't need to seek planning permission. Don't worry though, we have plenty of information on what is considered permitted development and if you will need planning permission for your garage. If you need to gain planning for your build, we can even help you through the process.
Long-lasting materials
We have been using traditional construction methods for over 35 years, crafting beautiful, bespoke wooden buildings and structures. We only use materials of the highest quality, ensuring your garage will last well into the future. All our timber buildings have a life expectancy of 35+ years but, if well maintained they can last a lifetime.  With the right construction, wood is a durable, resilient material that can also bear an incredible amount of weight.
Brick, too, is an extremely robust method of construction, which has stood the test of time.
Thermal performance
Nobody wants an uncomfortable garage or outbuilding. Year-round comfort is important especially if you want your garage to include some living space. You will also want to make sure your car is housed in the right environment – excess heat and humidity is not tolerated well by vehicles. When it comes to thermal performance, timber really is the star of the show.
Timber is:
A natural insulator.
Our timber is of the highest quality and is fully tanalised, protecting it from fungal growth, rot and insect attacks.
Timber is naturally breathable, maintaining a more consistent temperature, condensation and humidity level than brick structures (perfect for the storage of vehicles).
Thanks to the superior insulation and timber we use, your garage will be kept cooler in the summer months and warmer throughout winter. You'll need less energy to heat and cool, helping to knock a few pounds of your energy bills.
Green credentials
In terms of being kind to the environment, timber is pretty hard to beat when it comes to these two construction materials.
Timber is a 100% natural, renewable material that consumes carbon dioxide as the tree grows and can be recycled back into the land. When trees are harvested, more are planted, aiding the fight against global warming. Harvested wood also stores large quantities of CO2. Timber is also a fairly lightweight building material, keeping transport and fuel costs to a minimum. Our timber garages can house energy-saving features such as double-glazing.
The creation of bricks and mortar, however, relies more on the use of non-renewable energy sources which, will eventually run out. Brick is also costly to transport and have very few positive impacts on the earth. They last well but are not natural products and the production process is much more energy intensive compared to that of timber.
In short, timber garages are cost effective, low impact and quick to install. Marry all that with the thermal performance and environmentally friendly argument and a timber garage seems by far the winner.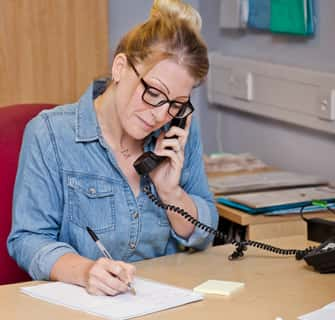 Get in touch
Want to know more about choosing low-cost, high-quality stables? We're happy to answer all your questions. Call 01233 884502, email [email protected] or send us a message and we will respond ASAP.